I have a few extra special friends in bloggie world:
Julie
, Karen,
Mary-Mia
and
Dawn
. There are a number of other blogs that I read on a regular basis but these ladies have all touch my heart in a special way and I am so thankful for each of them!
Friday afternoon I popped home quickly on my way out of town to find a package in my mailbox. I'd ordered something from eBay earlier in the week so thought it was probably that arriving. What a treat it was to read the return address and realize it was from my friend Julie! I couldn't tear into the package fast enough although the little 'clinking' sound had me a little concerned.
Well, I need not have been concerned.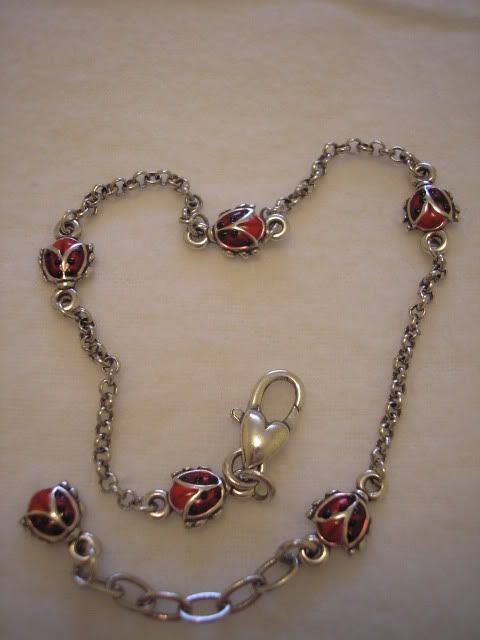 The noise I was hearing was this cute little ladybug bracelet moving about the tin heart container it was in. I fell in love with it immediately and it has barely left my wrist since Friday afternoon! (For those who are just learning about adoptions from China, ladybugs are the symbol for adoptions from China. People say that when they see a ladybug that Referrals of new babies are coming! I've seen ladybugs on my wrist all weekend, does this mean more referrals this week? :o)
Also included was this adorable board book, 'I Love You Like Crazy Cakes.' This is a beautiful book written by a mother who adopted a baby girl from China. It's a staple in every Chinese adoption home and now I have a copy to read to Hannah...and probably for her to eat! Isn't that what board books are for?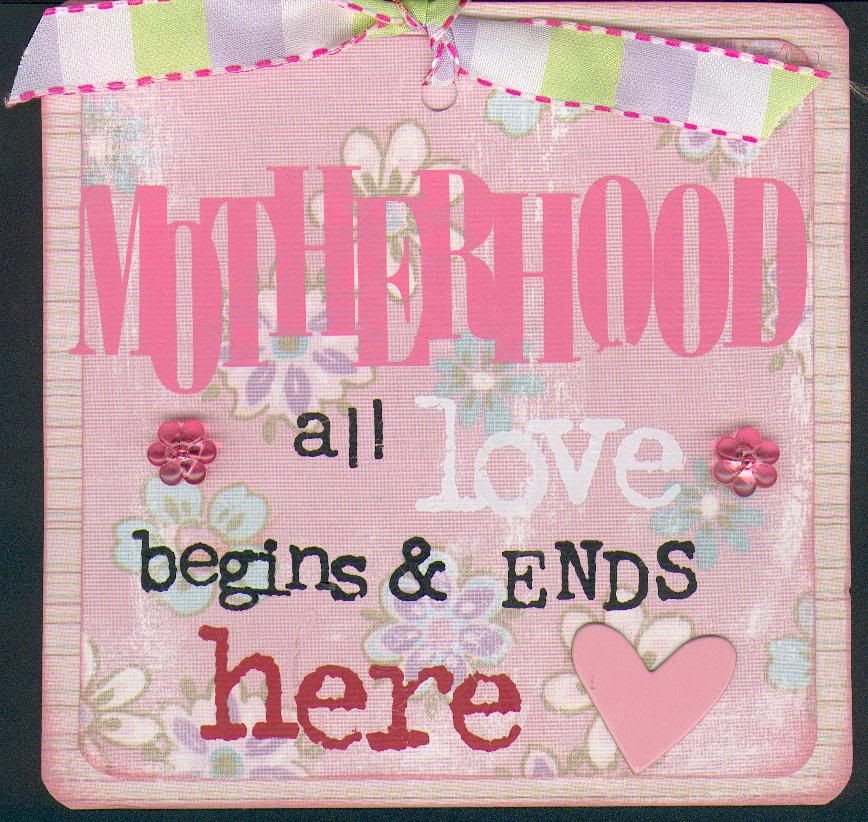 The final item in the package was a beautiful handmade card about Motherhood and love. Wow!
I want to share another very important part of the friendship Julie and I share with you now. Back in January of 2005 I was on my favourite scrapbooking website,
Two Peas In A Bucket
. I was scanning the non-scrapbooking message board when I came across Julie's post that she had just received a singles spot and could begin her paperchase for baby Tess. It was great news to hear so I added a note about how happy I was for her. It was also there that I shared out loud for one of the first times that this had been something I'd thought about and prayed about too but never pursued. Well, that was January 5th 2005 and January 11, 2005 God layed it on my heart to begin my adoption journey!!! God used Julie in an amazing way to lead me in what He wanted me to do! Since then, Julie and I correspond all the time and have become very good friends. Someday we'd love for our daughters to meet (PEI maybe?) and it would be wonderful for us to meet in person too!
Come to think of it, my 4 special friends are scattered all across North America: Minnesota, North Carolina, California and British Columbia. I don't think mileage wise we could be much more spread out but our online friendships are only a click away and for that I am very, very thankful!
You guys are wonderful and I am so thankful to be getting to know each of you better as we travel this journey to mommyhood together! Karen, you're leading the way with precious Gwen already with you and we're so very happy to be learning from the best!