In the past few months I've decided to slowly change the colour of my 'naturally blonde' hair. I'm attempting to go lighter which requires a lot of browsing through the aisles of the drug store, comparing boxes, holding them up to my hair in the mirror hoping nobody walks down the aisle (can't believe I just admitted to that!) and ultimately, courage to mix up another batch of stinky stuff and set to dying each and every one of those blasted grays away!
For the past 3 years I've always used the same colour. During my homestudy one of the questions asked was, 'What colour hair would you say you have?' With confidence I was able to tell him, '106A!'
What? That's not what he wanted?
Trying again I thought about the label of the box and stated with great confidence, 'Bamboo!' Uh oh…wrong again, although by this time we were both enjoying a chuckle during an intensive homestudy visit. It was nice to lighten things up a bit. I digress…
Getting back to my current dilemma…. Since I'd been using the same colour for 3 years I had a supply of 3 emergency boxes stashed in the closet for those mornings when I'd wake up an realize my hair had grown 2" overnight and every bit of it was gray!
Now what was I to do? 3 boxes of the 'old' colour when I am in the process of becoming a new, blonder woman? Guess I had no choice but to take the old boxes back to the store. Realizing I didn't have the receipts I decide to put on my best smile and face the 'returns desk.' You know what I mean…Sometimes they like you, sometimes they just don't want to face another return and you're just seen as an inconvenience. Oh yah…you can relate! Thankfully I got a nice young (ohhh…that means I'm getting old!) girl who was very happy to take my hair colour and allow me to exchange it. Exchange it? What? Do you know the new colour is $3.00 cheaper up the road at Wal-Mart? Can I just get a gift card and shop another time? Nope. Hmmm…what to do? Deciding to be a savvy shopper I wander the aisles and look for sales.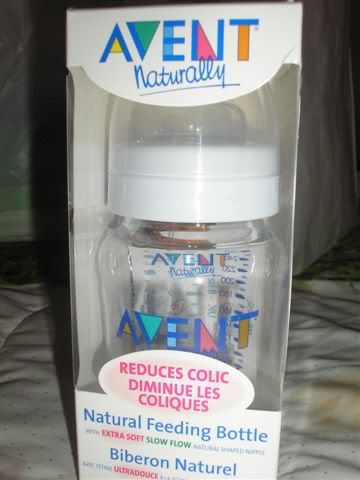 I end up with some odds and sods of stuff, a new pair of earrings and Hannah's first bottle! That bottle was the first thing I chose and I clutched it to me like I'd won an Oscar! What a treasure…I'm (finally!) buying BOTTLES!!!
Now, it's time to go….I need to hit Wal-Mart for more hair dye just in case tonight is the night those nasty gray hairs decide to rear their ugly heads! I'll be ready for them….box of dye in one hand and a blow dryer in the other!
Hey gray hair…be afraid….be very afraid!