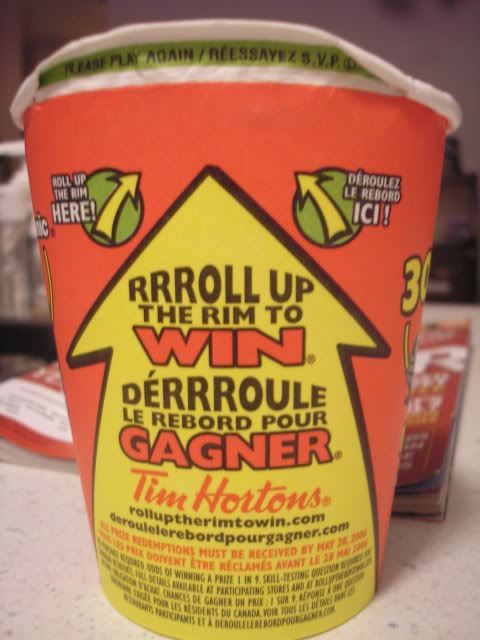 Hmmm. I'm not sure I believe that any more. I'm a true Timmy's fan and a normal work day includes anywhere between 1 and 3 trips across the street. But, 'Roll Up the Rim to
Win
?' It's that last word that gives me a little problem.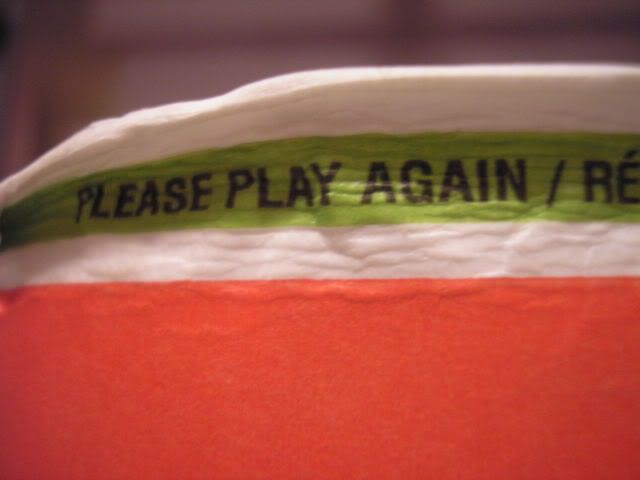 You see, I'm currently 1/19! (Yes I'm counting....quit laughing! I can heeaaar you!) This means the phrase I see in front of my eyes more often than I like is, 'Please Play Again.' Hey, I can even recognize it in French if I happen to roll up the French side of the lid first. I wonder what 'Please Play Again' looks like in Chinese? Trust me, if they had roll ups in Beijing I'd be sure to be seeing that phrase there too!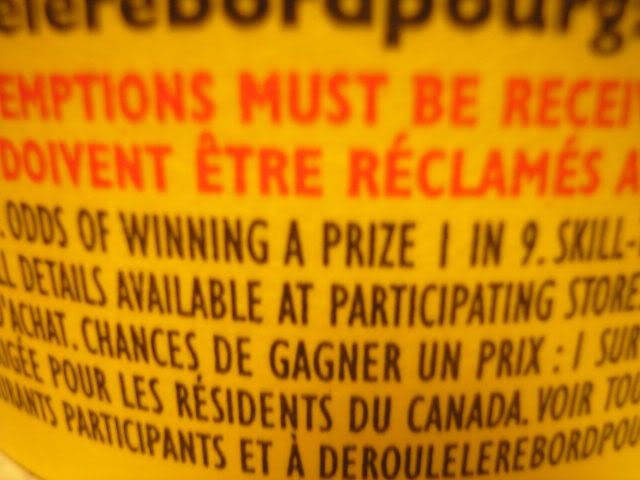 The fine print on the cup, and you know when I was about 0/6 I started looking, reads, 'Odds of winning a prize 1 in 9.' OK, that means I was all set at 9AM this morning when I tossed back cup number 18 to see what I'd won!
What? Nothing???
OK - They must not have realized that it was cup #18 that I'd purchased! So, like a true Timmy's fan I headed back later in the day (needing it badly to stay awake after a yummy lunch at the Manadarin) and bought #19. Humph! Nothing but 'Please Play Again!'
It's not like I'm after the big prizes although a plasma TV or $1,000 would be nice. (Not sold out on the car as it's only a year's lease.) I'd be happy with a coffee or cookie. Yah, yah...I could probably force down a donut if I
had
to! ;o)
So, in doing my 'Canadian Duty' I will be heading back to Tim's bright and early tomorrow morning to see if the next cup is a winner! I'll keep you posted because I'm sure that next to Referrals this is about the most exciting thing you have to read right?
Now, in writing this, I've kinda wondered what it's like for my US friends. I understand most of you do not have a Tim's on every corner. And I mean EVERY corner! (Eg. My city has a population of approx. 150,000 people and I can think of
15
Tim's in our city limits!) I've heard Starbucks is all the rage for you. Are you as crazy as we are and put one at every stoplight? Also, being that I love to play with numbers, I'm going to count the number of people I see with a Tim's tomorrow. (That are not within 100' of the door of a Tim's.) I think even I'll be surprised at how many there are!
Rrroll Up The Rim To Win? Here's hoping it happens soon! I need a donut or cookie to go with that one lone coffee winner waiting in my desk drawer!
Oh man! Sure hope I don't forget to cash that puppy in before it expires!