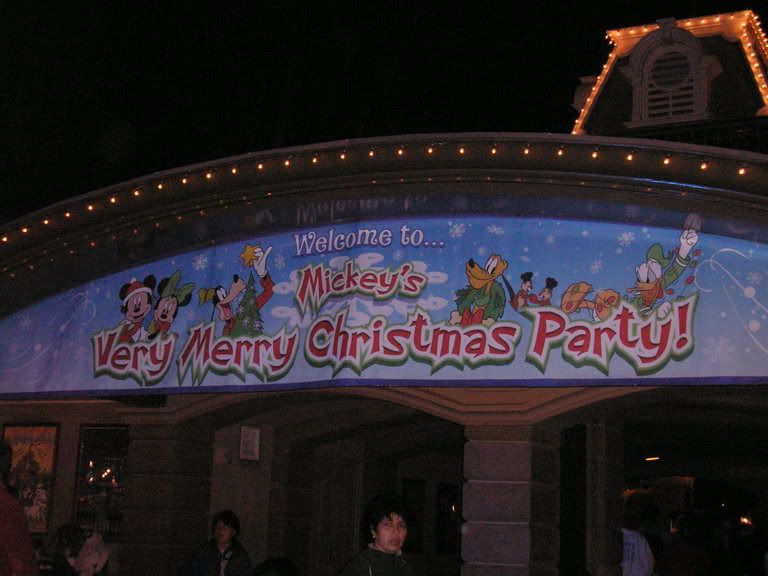 Sunday evening Rebecca and I had tickets to, 'Mickey's Very Merry Christmas Party' (MVMCP) and what a party it was!!! From the moment we entered the Magic Kingdom you could feel the excitement in the air! It was Disney, it was Christmas and it was
snowing
on Main Street! Who could ask for more? Even though snow is nothing new for us it was still really neat to have it snow in Florida! That being said, R quickly realized that eating this snow (unfortunately something she still does in Canada when we're not watching!) wasn't very tasty...it was made from soap! We both laughed as she shouted, 'Auntie Cathy...it's Tide!' (This is an inside joke in our family as this past summer at the cottage grandma accidently put Tide in R's apple sauce thinking it was sugar! A reminder to myself to keep things in their original containers...even when downsizing for the cottage! Other than a really clean tongue, R was fine and we have gotten a lot of mileage out of that story!)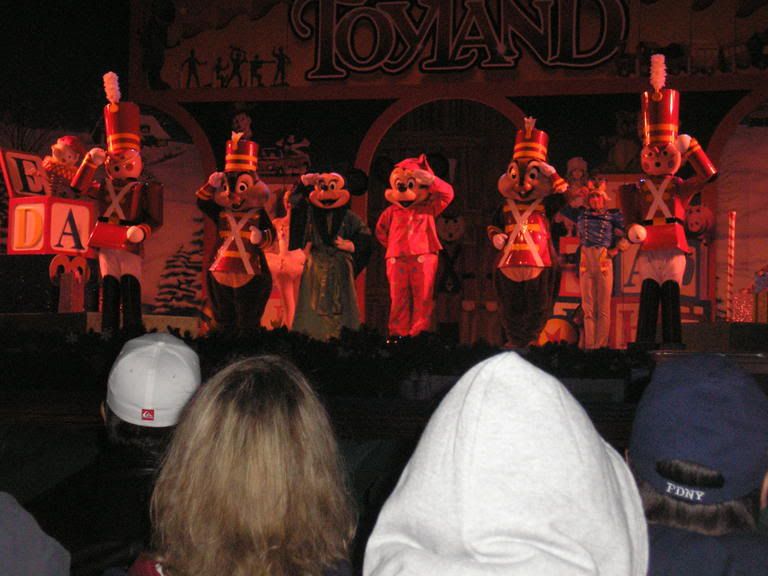 After wandering through the snow storm on Main Street we picked up a free hot chocolate and cookie and headed for Tomorrowland where 'Mickey's Twas the Night Before Christmas' was being performed on stage. It was great and I must admit to tearing up a bit when the Dancing Reindeer and Marching Soldiers first appeared! Being a Disney fanatic, I've seen these on TV Christmas Day for years but this time they were REAL! Too cool!
After the stage show we headed back towards Main Street where the first parade was winding by. Taking advantage of the shorter lines we had our free official MVMCP picture taken and also grabbed another cup of HC to warm us up a little. It was a cool night and quite damp. A Disney photographer took some pics of us with the castle behind us. Unfortunately, mine didn't turn out too well as it's hard to hold the camera still long enough for the long exposure.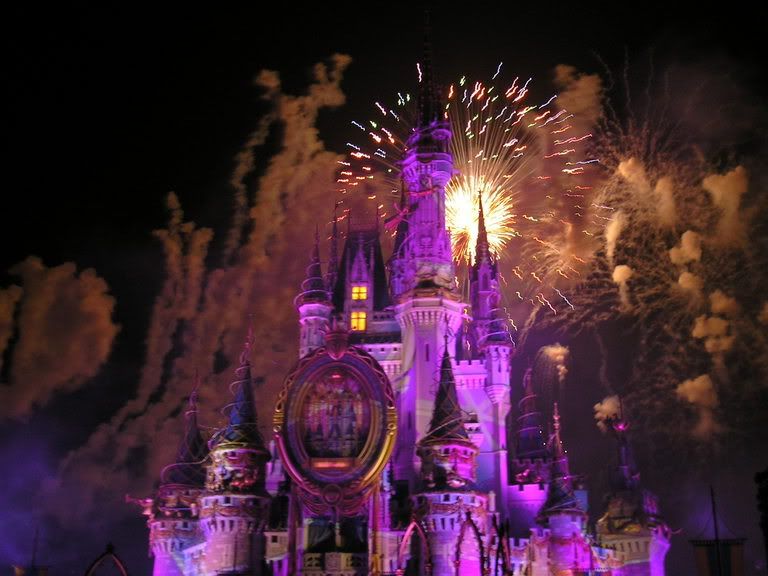 By this time, the first parade was finished so we found the 'perfect' spot on the side of the roadway to watch the castle stage show, the Christmas firework display and the 2nd parade! There is nobody, and I mean nobody who does fireworks better than Disney! Timed perfectly to Christmas music it was a display that took my breath away!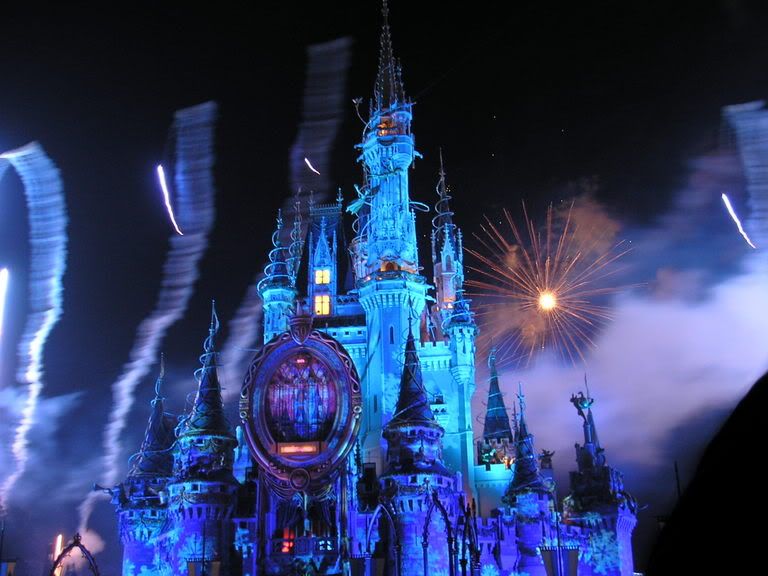 Watching the video makes me laugh as the excitement we were feeling is very evident on the video! What fun!
Unfortunately, the dampness in the air caused the cancellation of the last 2 stage shows that were scheduled to play on the castle stage. After the first number was cautiously presented it was announced that due to the weather, the show had to be cancelled. I would much rather miss the show then risk someone falling on a damp stage. They had 25 people out mopping and drying the stage with towels for more than 20 mins. so it wasn't for lack of trying on their part...it was just too wet!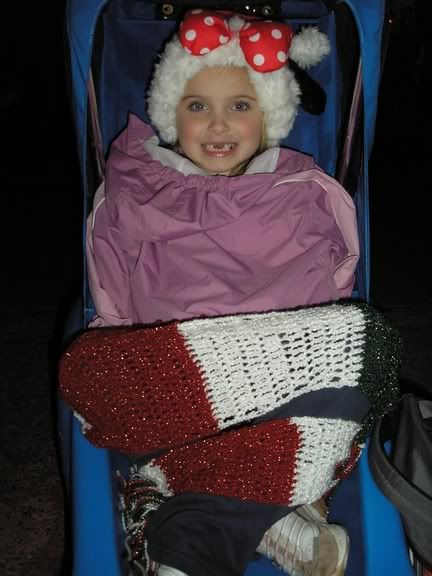 Because of the dampness, R was bundled up for the parade too. If I'd known how chilly it would have been I'd have brought her winter coat from the room but didn't do that. Next time!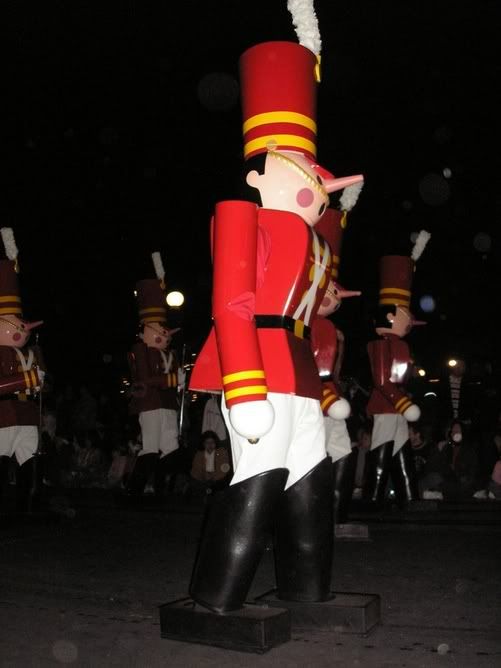 The parade was all we could have hoped for and so much more! It was complete with every character imaginable, dancing snowmen and gingerbread men, marching soldiers, dancing reindeer and Santa himself....Wow!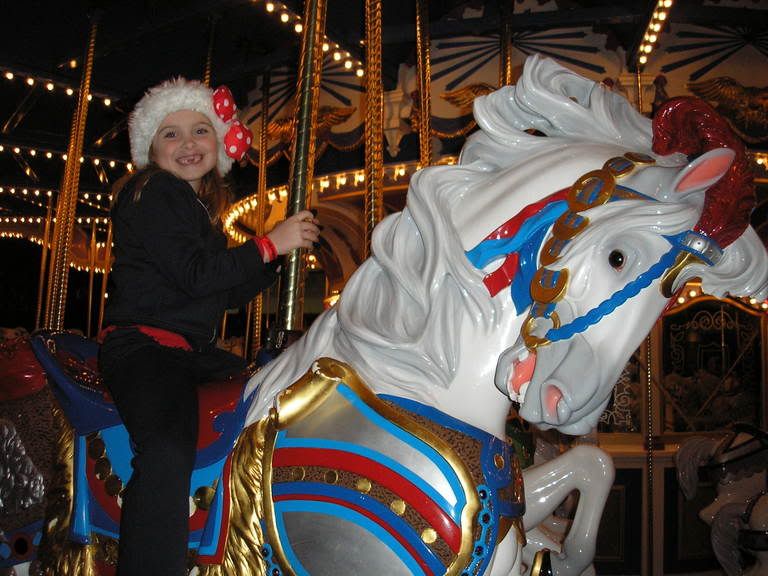 By this point it was 11pm and many people were leaving the park. Not my party girl and I...the night was still young and we had 1 hour left! So much to do...So little time! We jumped onto Cinderella's Golden Carousel and galloped off to the land of princesses and imagination! From there it was time to take to the skies with Dumbo the Flying Elephant!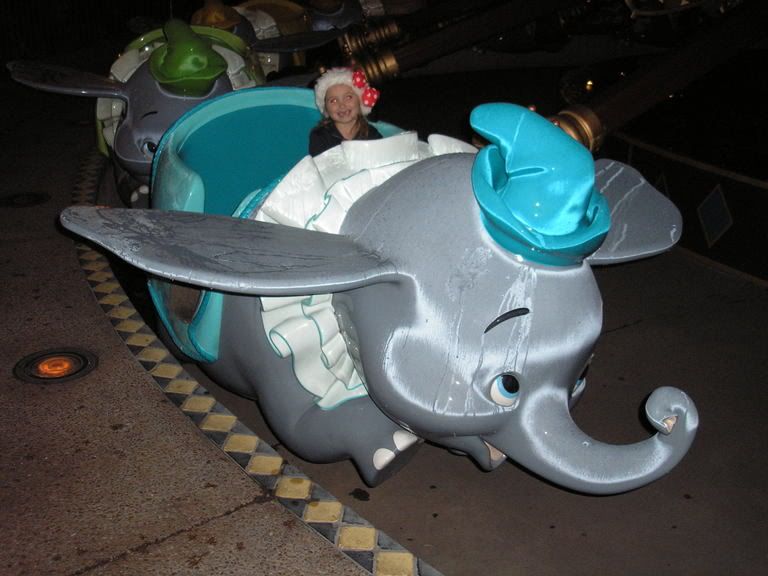 (A quick look at Dumbo gives you an idea of the humidity that was in the air.) Our final adventure for the night was a visit to Mickey's Philharmagic. An amazing 3D movie that came complete with the smell of apple pie and water being sprayed in our faces as the water splashed off the rocks in, 'The Little Mermaid.' If you are going to Disney, Mickey's Philharmagic is one of the 'musts' to do!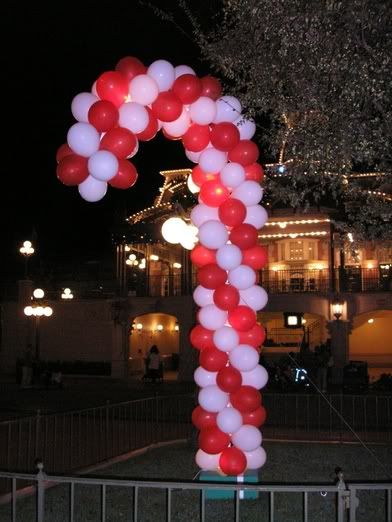 Our evening at Mickey's Very Merry Christmas Party was AMAZING! We had a great time but were more than ready for bed when we finally arrived there sometime after 1am! I guess the best indication of just how tired my Boo was was when she fell asleep
standing up
on the bus ride home! Guess we'd gone hard that day and we were ready for a good night's sleep. After all...we still had 5 more days of partying in the parks to come!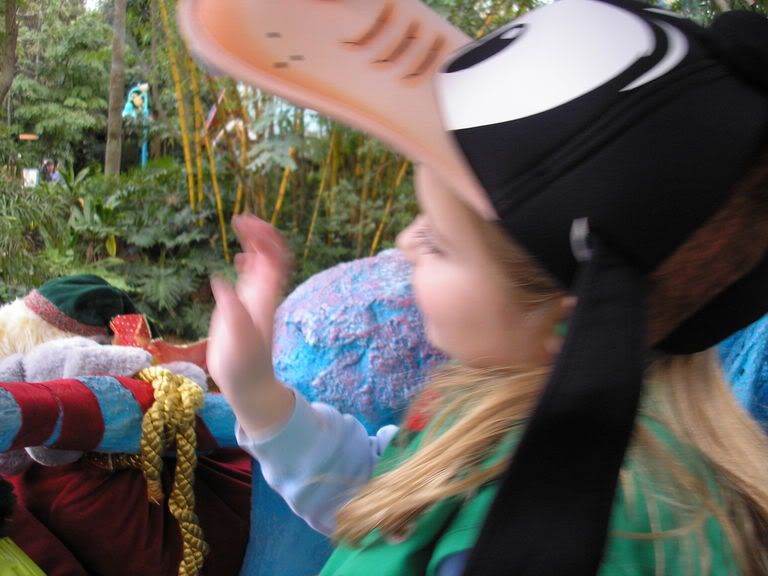 Can't wait to tell you about Monday's adventure and the really cool thing that happened to us!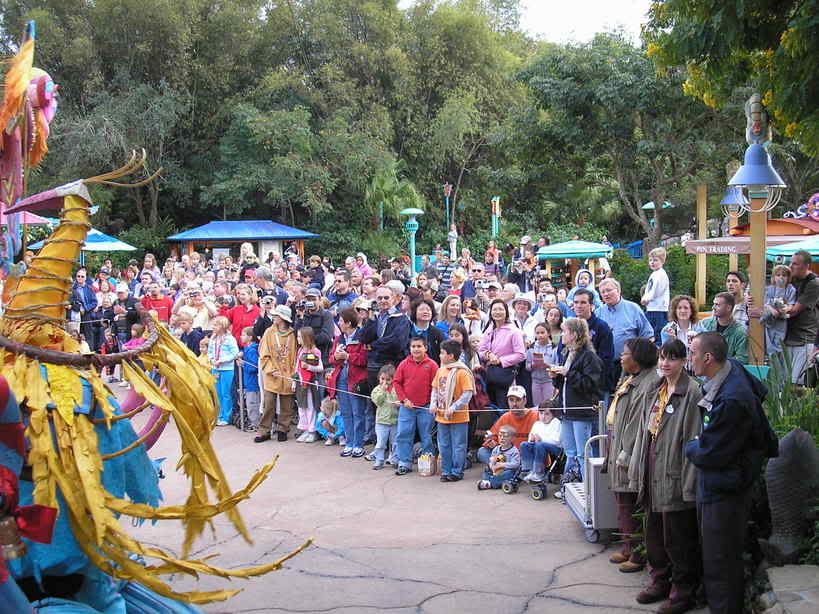 Here's a couple of little hints...can you guess what we might have been asked to do Monday?