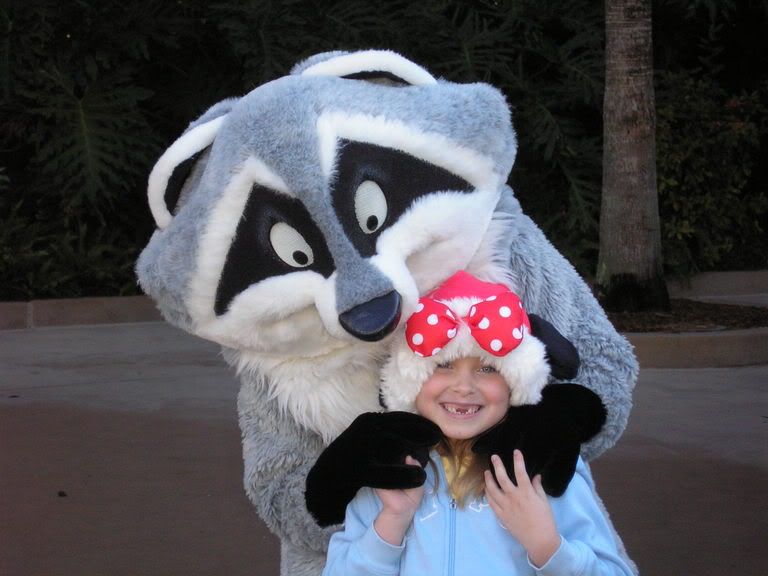 Monday morning we were off to Animal Kingdom after a shorter than normal but good night's rest. The day dawned bright and sunny and stayed that way all day. Temps. were in the high 60's/low 70's all week which was absolutely perfect!
After a quick visit with Meeko, we made our way to the far end of the park and rod
e Kilimanjaro Safaris. There was no wait at all and by the time we reached the ride we walked right onto our safari jeep. What a treat to see all the animals awake, moving around and close enough to see them well. When we rode this ride last year it was a rainy morning and the animals were hard to find. I'd prepared myself for it to be the same this time so seeing so much was a great surprise! We saw hippos, rhinos, elephants (including a baby!), giraffes, zebras and many more!
From 'Africa' we headed across the park to Dinoland, taking time during our walk to enjoy the Tree of Life (ToL) from many angles.
It was fun to see how many animals we could find in the tree. On our last trip Rebecca didn't care for the ToL but this time she was fascinated by it! (I quickly learned to re-introduce her to things she didn't care for last time as the year-and-a-half between our trips made a big difference in her comfort level. She's still a timid little mite at times but I wouldn't want her to be any other way!) A quick detour to meet the 'Pooh' characters and then on to Dinoland.
She wasn't in the mood to ride any rides but was more than happy to pose for pictures while running around the 'Bone Yard.' The Bone Yard was a great place for her to run off energy and me to enjoy a rest from walking around. It's a glorified playground with lots of places to climb and slide and parents to relax for a bit. With the exception of Epcot, each Disney park has a place like this and it's great for the kids and parents too.
Next we moved on to see a couple of stage shows. 'Tarzan Rocks' was a fun show featuring amazing rollerblading displays and lots of music to get ya up and moving! After Tarzan we walked back to Africa and saw 'The Lion King.' Great show with wonderful costumes! Very interactive which is always fun too.
The Lion King show gets out right beside, 'Camp Minnie Mickey' which is a wonderful place for the children to meet characters as it's lines are often shorter here than in other parks. Rebecca was thrilled to meet Minnie and Mickey too.
At this point, the adventure I alluded to last time began!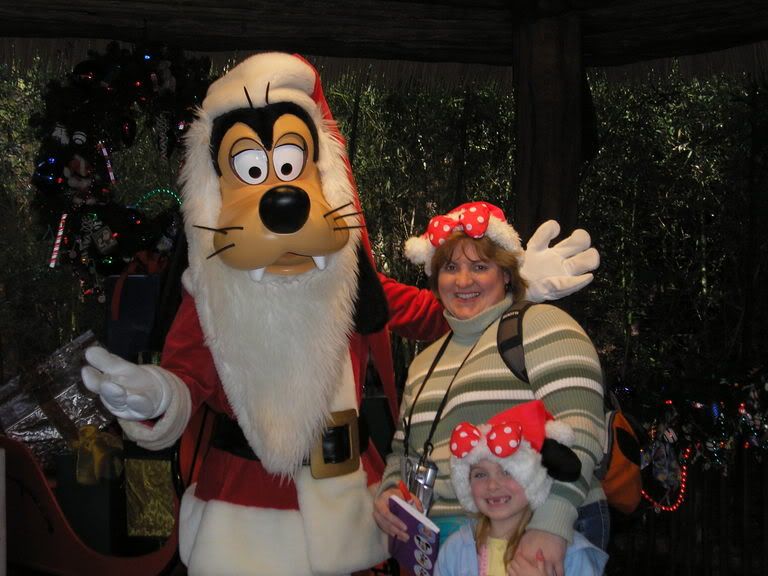 She decided she'd also like to meet Goofy, if I went with her and stood beside Goofy for the picture. While we were in line we were approached by a couple of cast members who asked us if we would like to help them out. Thinking they might want us to complete a survey or something I said 'sure.' You can imagine our surprise and excitement when we were asked to ride on Goofy's float in the parade that afternoon! Too cool!!! We couldn't say 'yes' fast enough!
We needed to be at the parade gate at 2:15 which was about 45 mins. away. We stopped and had lunch but were basically far too excited to eat much. After a quick potty stop we went to the gate to wait with the other 4 families that would participate in the parade.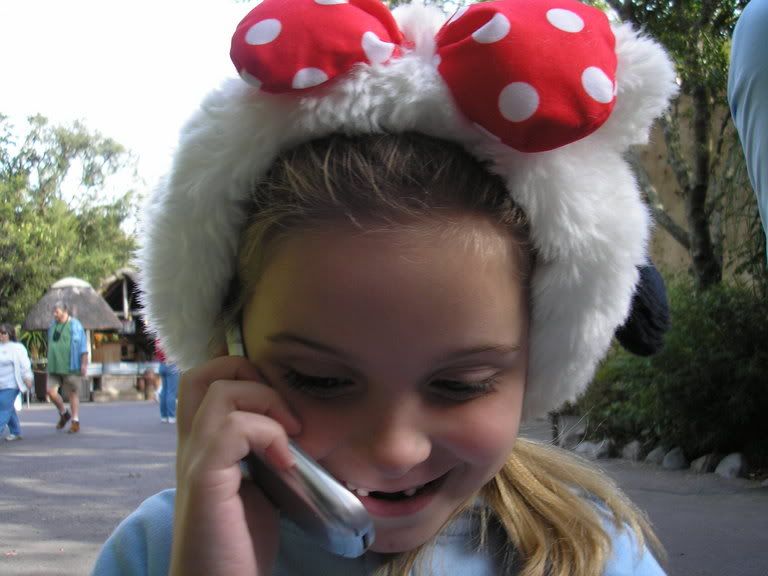 I snapped this picture of Rebecca calling Grandma and Grandpa to tell them about the parade. You can see the excitement in her face!
We were not allowed to take any pictures once behind the gate but all I can say is that it was magical! We were dressed in red and green vests and matching Goofy hats complete with reindeer antlers and red noses. From the moment we walked up to the float Goofy played with her as she called out to him. She blew him kisses and he'd grab his nose as they landed which made her giggle all the more!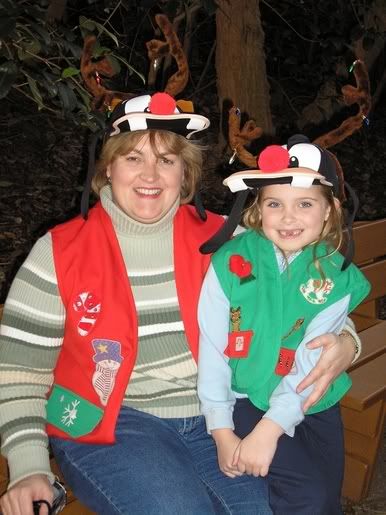 The music on the float is quite loud so we were each given a pair of earplugs to wear for the duration of the parade. Believe me, I know every single beat of the jungle version of 'Santa Claus Is Coming to Town' by heart after hearing it for 30 mins over....and over......and over! :o) Rebecca was so excited that her little legs never stopped kicking and she waved at everyone! I was surprised at how many people took pictures of total strangers on a float! Once our float left the gate a cast member took a couple of pictures of us with a disposable camera. I still need to get that developed but will post 1 when I get it.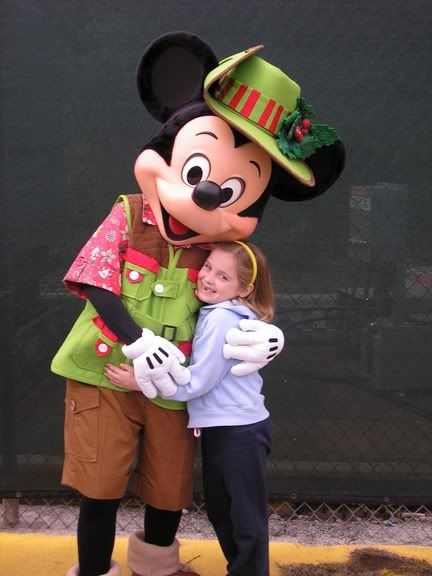 As our float arrived back in the staging area we watched the remainder of the parade from the gate. Rebecca called out to Mickey and waved at him as his float entered the staging area. After climbing down he motioned for her to come over and posed for this great picture! She was quickly becoming Mickey's girl! Minnie...you'd better watch out!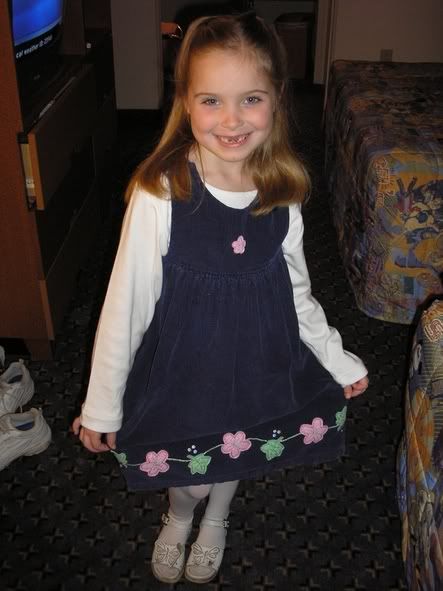 After a fun day at Animal Kingdom filled with great excitement we headed back to the hotel to change for dinner. We had reservations at 'Chef Mickey's' in the Contemporary Resort and this was the Character meal Rebecca was most looking forward to. She had an absolute BLAST!!! Dancing with Donald Duck! Posing with Mickey, Minnie, Chip, Dale and Goofy.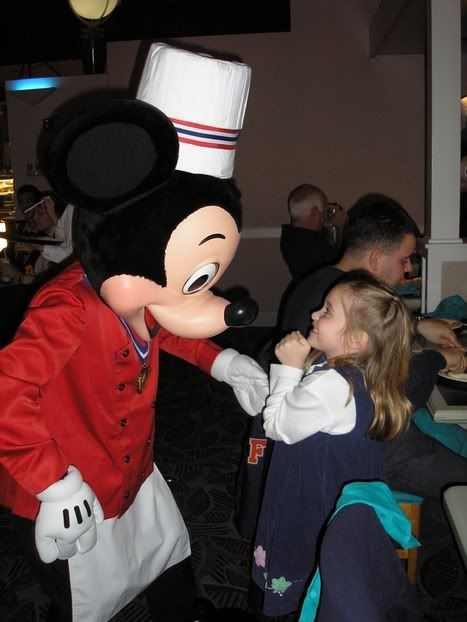 I love the look in her eyes in this picture! We were only 3 days into our trip and there was still so much before us but already we had built memories that would last a lifetime!