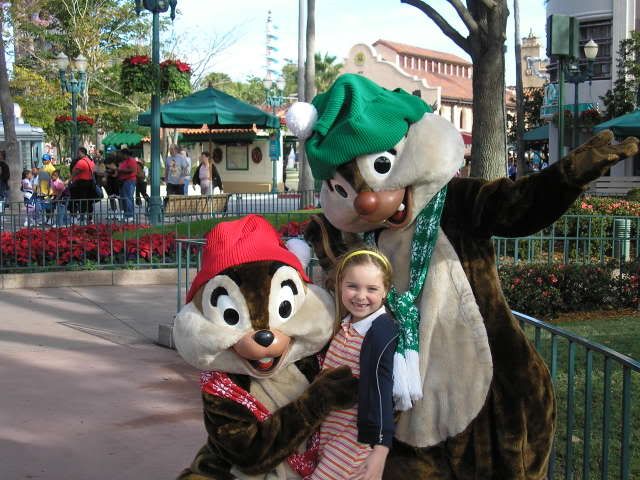 Thursday began back at Disney-MGM Studios, taking in some of the attractions we'd missed on Tuesday. As usual, characters were a big hit and we spent time vising with them first thing in the morning. We went to the new Stunt Show and it was a real treat!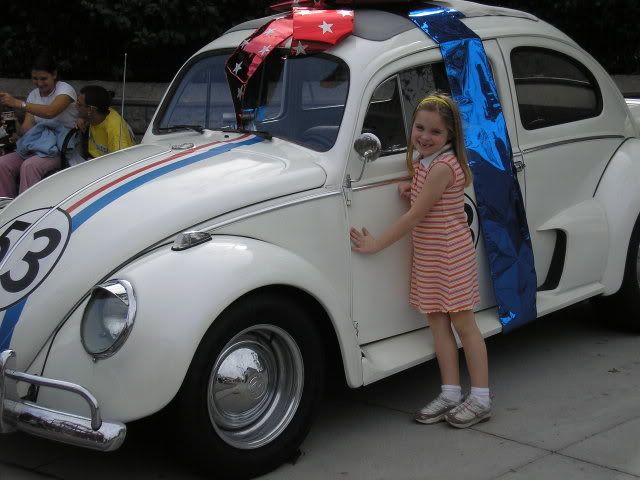 We were able to see how they film exciting car chases and the like and the show even featured 'Herbie the Love Bug!' I remember going to Herbie movies as a little girl and now Becca was enjoying them too. It's fun when things like movies span the generations as we're able to enjoy them together.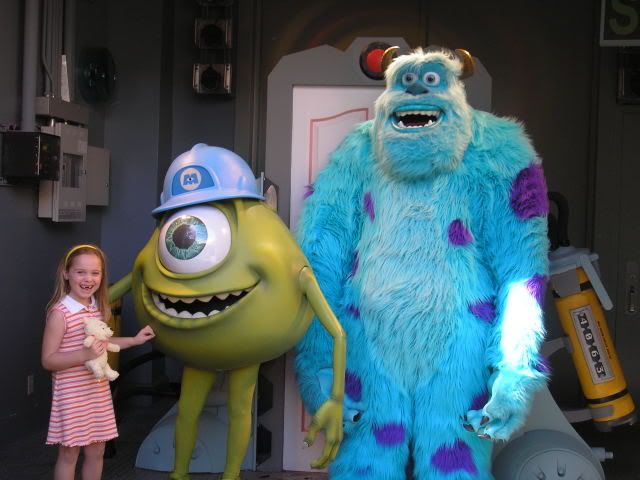 Sully was a little too big for Boo but she enjoyed standing close to Mike!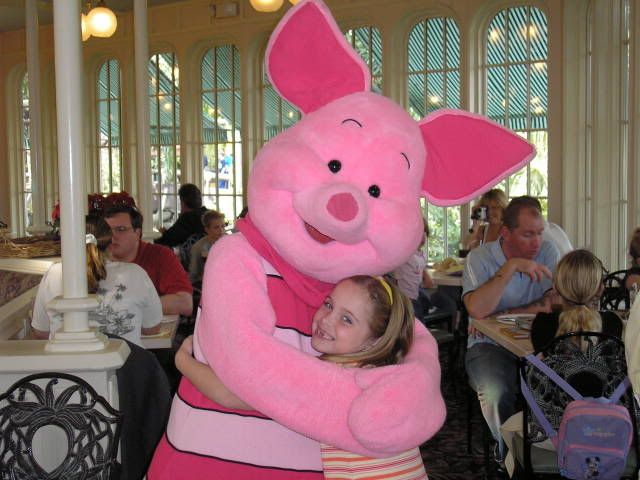 The afternoon found us making our way back to Magic Kingdom in time for our lunch with Pooh and Friends at the Crystal Palace. Realizing the only time we'd be able to see the MK parade was only an hour after our lunchtime reservation, Auntie Cathy parked the stroller on the parade route and we headed in for lunch. The Crystal Palace is a beautiful restaurant and if you're a lover of anything 'Pooh' then it's the place for you to eat! Having booked a late reservation, once again the restaurant was not completely full which led to more time for character interaction.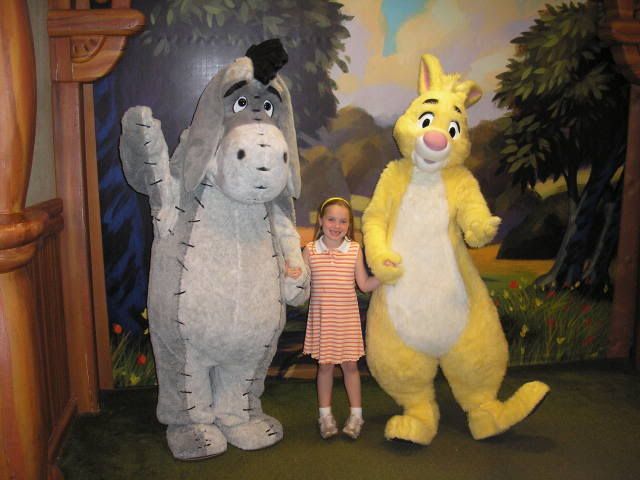 (If you like your food hot, then a character meal is not for you. I think I averaged 1-2 bites between character visits which was just fine with me.) It was all worth it to see the enjoyment and excitement on Rebecca's face! It was so neat that after seeing the same characters day after day and meeting them....often!....she still got just as excited when one would walk into the room and even more excited when they arrived at our table!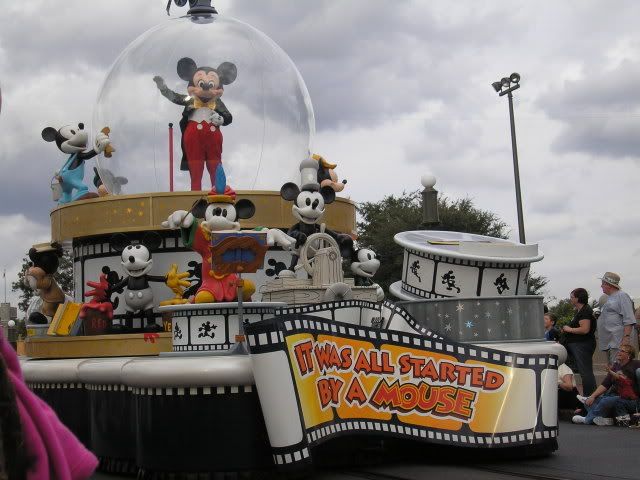 After lunch we went back to our stroller and arrived just minutes before the parade arrived! Perfect timing! Squeaky Pooh and Becca had front row seats for this wonderful Disney spectacle!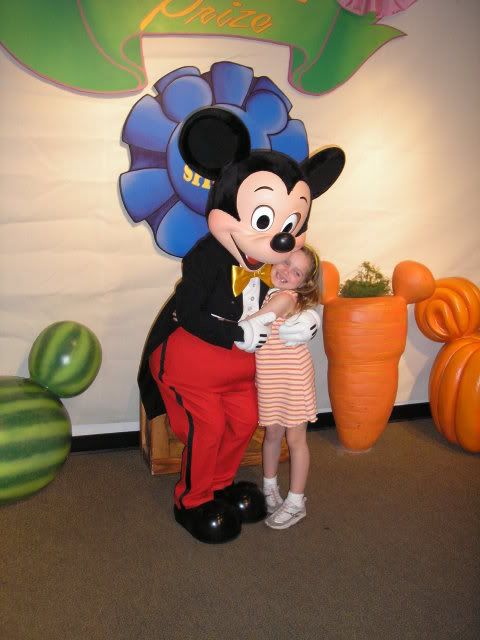 By this point in our trip we'd done pretty much all of the things we'd wanted to and set to revisiting some of our favourites. I'm sure you'll be shocked to hear that that included visiting the characters...for about the 10th time! Oh well, when she's older we may do more rides, for now it's all about the characters and for me, it's whatever she wants. A little spoiled? Yes? Worth it? YES!!!
This picture of Becca and Mickey says it all! When we stepped into the room for our visit she was just kept jumping, gasping and letting out little squeals of excitement! The photographer thought she was hilarious and recommended she 'BREATHE!' so that she wouldn't pass out before it was her one-on-one time with the infamous mouse! Mickey didn't disappoint!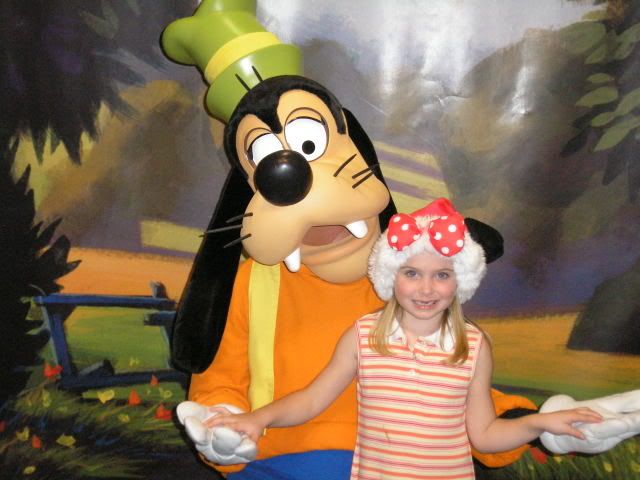 By this point in the week she was finally becoming more comfortable with Goofy. It took quite a while for her to let him touch her but eventually he won her trust. Normally she'd ask Goofy's helper to ask him to be 'serious.' That's pretty tough for a guy named, 'Goofy!'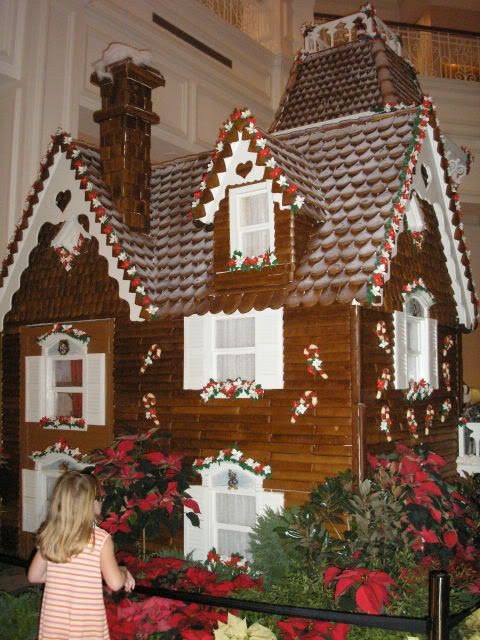 After leaving MK we took the Monorail to the Grand Floridian to check out their infamous Gingerbread House! Wow! It's ingredients include:
1,050 lbs. of honey
140 pints of egg whites
600 lbs. of powdered sugar
700 lbs. of chocolate
800 lbs. of flour
35 lbs. of spices
Plus, Tons of Creativity, Disney Magic and Pixie Dust!
We did buy a couple of cookies. Who wouldn't after seeing and smelling such a tasty treat?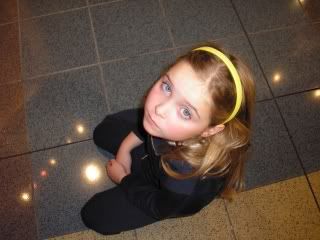 Thursday night was our last visit to Downtown Disney and souvenir shopping was the theme of the evening. We had fun looking for treats to take home to family and friends but as this picture clearly shows, it was a long day and bedtime couldn't come soon enough!